It has been almost a year since the last time I wrote to you. A year full of learning, exploring, conducting experiments, and the stress keeps piling up. When I embarked on this journey, I never thought I could transform into the person or the researcher I am today. Let us start from the beginning, shall we?
When I first came to Ireland, I thought the fact that I was not a pharmacist would have an impact on my PhD journey, and in some aspects that was true. Spending time reading papers and familiarizing myself with some concepts was a bit of a struggle at the beginning. The more I read, the more confident I would be on my meetings with my supervisors. It was not until my first training on the formulation process that I really got started. Suddenly, everything made sense. I went from theory to practice, and the more I practised, the more confident I would be.
After a while, the responsibilities and the demands were getting bigger and bigger. Studying for an animal related course, a statistics module from the school, supervising and assisting a final year student with her project, and doing demonstrations for undergraduate students all seemed too much at the time (and I was only a few months into the project). Nonetheless, the fact that I was growing as a person and as a professional helped me with overcoming these objectives. Until it was time to focus on my own research…
It is not a perfect world and if everything in science worked on the first attempt, they would not call it research. Developing a method takes time, and most often it is trial and error. When you realise that a method you pick somewhat works, then you need to optimise and this will take more time, more resources, and more disappointments. I remember going to some meetings with no results to report to my supervisors if things were not working. However, the team behind me was very supportive and together we were able to overcome those obstacles as well. Research is not a 9-5 job. It comes with difficulties, stress, most of the time you take some work home with you, and all that on repeat. Nevertheless, the project itself seems more fascinating than what I thought before starting. I feel like a nice story is built up here, with all the experiments we conduct and the way we are planning to move forward.
This year has brought me close (finally) to my fellow researchers, mainly from COLOTAN but also from other EU funded programs. Getting to know these amazing and talented people really made me feel that I am part of something bigger than just a researcher at a university. I had the chance to attend lectures and trainings alongside them, visit pharmaceutical companies, and listen to their own research. I am so lucky to be part of this team, and I hope that when it all ends, we do not lose touch with each other (unless we are competing for the same job position). I also had the opportunity of presenting my own research in front of a panel of distinguished members of the pharmaceutics area. It was a moment I will never forget since it was my first time presenting my own work in front of others, especially after the COVID-19 pandemic.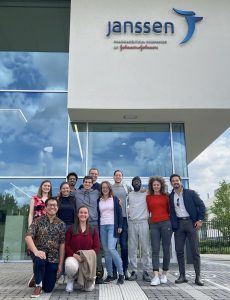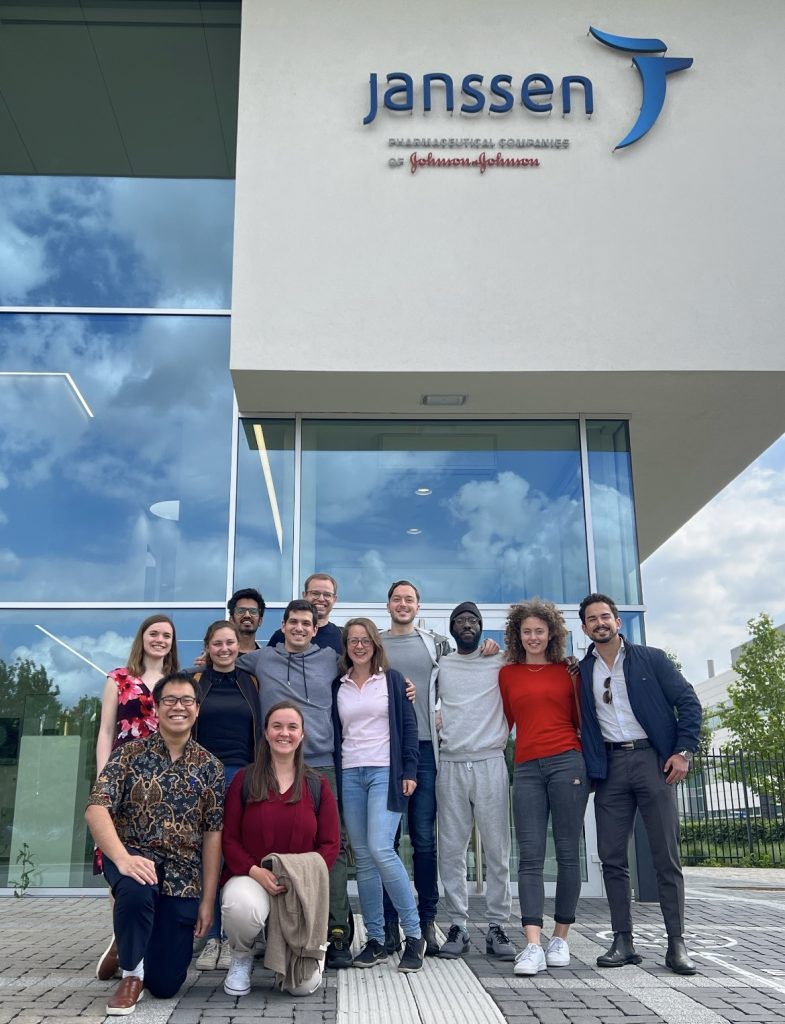 The COLOTAN team visiting Janssen.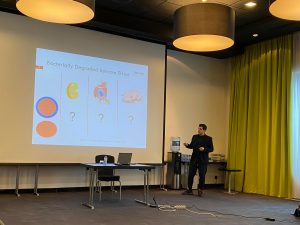 Theo presenting his research.
Coming from Greece, Ireland can be a very bad place to live in when it comes to weather conditions. For me though, this effect is negligible because of the friends I have made in the lab — from researchers to technicians, and even supervisors. They make my stay here more enjoyable, and my motivation is boosted every day. I am blessed to say that I am part of a very supportive group that not only understand all the difficulties expected in a lab, but also care about my mental health. I have also picked up a few nice habits that I personally feel I would never pick up home (working out in the morning, eating healthier, going to sleep early). I am so happy to see how far I have come since last year and I am really looking forward to seeing what kind of person I will be in a year from now. Till next time!
Theodoros Giakoumis