Some things never change… Since my college years, which were not so long ago, trains have always been a constant in my life and it seems that no matter where I want to go in Italy, Bologna FS is a nearly inevitable stop. This is one of the many things I've learned in this first year living in Italy.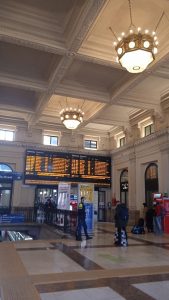 Stazione Ferroviaria Bologna Centrale
I knew it was going to take me some time to digest the idea that I'm now an MSCA Early Stage Researcher, so I promised I was going to give myself time to write this first blog. Just like my adventure companions, I will try to give you a glimpse of what this journey was like.
Unlike my colleagues, I didn't join this project right at the beginning. Initially, I did not apply for the position in Parma, but for the position in Denmark. I remember my interview with Professor Anette vividly. I was so nervous that my hands still shake whenever I think about it… What I realised after the first few minutes was that this was more of a conversation and not so much an interrogation in which you have to check all the boxes. At the end of the interview, I understood I wasn't the right person for the job (Denny really is the perfect fit 😁), and it was more than okay! I left feeling confident about my work and about the skills I gained during my college years. Strangely, I had this gut feeling that somewhere, there was the perfect position for me.  This was the first lesson I learned.
So that was it, COLOTAN was a nice try. At least that's what I thought…
In January 2021, I presented my Master's thesis and after 5 years of hard work, I was finally a Master and unemployed… It was the weirdest feeling ever… Finally, I had accomplished my goal, and yet the future was a big blur of uncertainty. That feeling soon gave way to another! That same night, I received an email that would not only change my life, but the life of everyone around me. Professor Simona sent me an email explaining that the Parma position hadn't been filled yet. The COLOTAN dream was still alive! 🎉 During the application, we had the possibility to choose three positions for which we wanted to apply, Parma was the second position in that list. I had been wanting to work with organoids for some time, but, since I had no experience in this field, I thought I wasn't the right person for the job. That's why I didn't choose Parma as my first choice. As much as I wanted to consider all the options and stay close to my family and friends, I knew I had to take this chance. I knew I had to embark on this adventure. But I could never do it alone… My boyfriend came with me, and so two 24-year-olds started a new life in la bella Italia!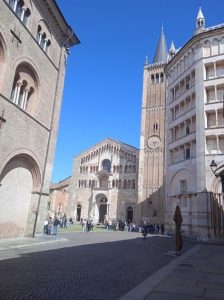 Piazza del Duomo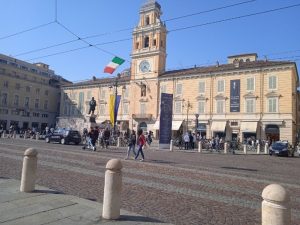 Piazza Garibaldi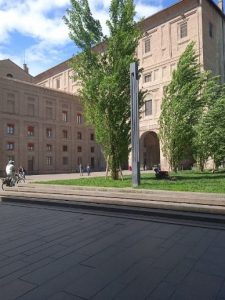 Palazzo della Pilotta
I'm not going to lie, the first few months were a roller coaster between the excitement, the uncertainty, and saudades. Saudade is a Portuguese word that has no translation in other languages. The best word I can find is "longing", but longing doesn't fully capture this feeling. To sum up the most troubled aspects of this adventure, well, we changed homes five times this past year… It was absolute hell, but we finally found a perfect place to live. I still can't speak Italian fluently, but thank goodness my boyfriend can! 😅 On a more positive note, I absolutely love living in Parma. ♥️ It's a small city (for Italian standards…) in the region of Emilia-Romagna, surrounded by long fields and it's best known for its Prosciutto and Parmigiano-Reggiano. Food is worshiped like a god here! Also, I've now seen snow falling for the first time!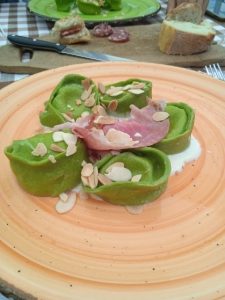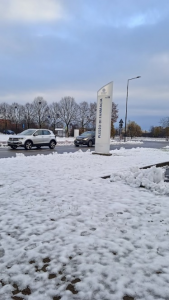 Left: Prosciutto, right: Snow in Parma
Parma is completely flat and so, the best transportation is the bici. Everyone has a bike in Parma! 🚲 A funny thing is that you will frequently see people dressed in very fancy clothes riding a bike, including ladies in very high heels (I have no idea how they can do that).
Another thing that I absolutely love about Italy is that you can go anywhere by train. I got to see places I could never even dream of.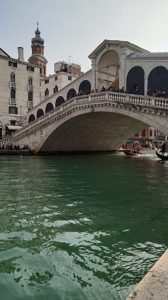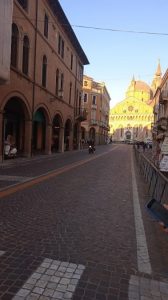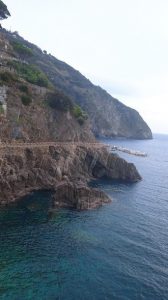 Left to right: Ponte di Rialto, Basilica del Santo, Cinque Terre – Riomaggiore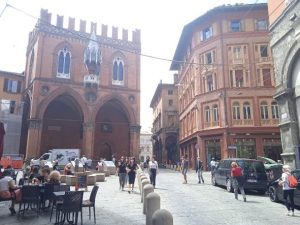 Bologna
But the most extraordinary thing about this experience is that it also impacted the life of people around me. My parents, after a lifetime of hard work, can now travel across Europe to visit me and get to know places they never imagined they would visit. After moving to Italy with me and working for a few months at the University of Parma, my boyfriend is now an MSCA Early Stage Researcher in Padova. How crazy is that???
Don't get me wrong, not everything is a bed of roses… Moving between countries is hard, starting a new life without any family and friends around is hard, adapting to the reality of a new lab is hard… But thankfully, I have an amazing group of people that understands perfectly what I'm going through because they are also experiencing the same thing: my fellow ESRs.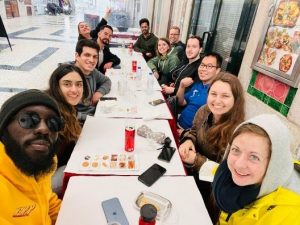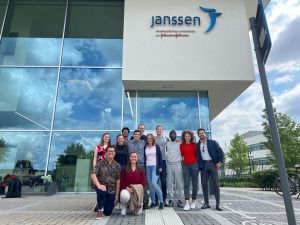 Left: ESRs at the UNGAP Meeting in Lisbon, right: ESRs at Janssen in Beerse, Belgium
I guess we can say that COLOTAN is my platform 93/4 and I must wait and see where this train will take me.
Inês Parente