Pressure is defined as force per area, which seems to be describing my 2nd year of PhD, lots of things (force) happening in many aspects (area) of my life.
Something I wish society would be more aware of is that doing research is a wild card, you experience many challenges and discoveries in ways you cannot imagine beforehand. The good thing is, you also learn many new things (unexpectedly) which are novel to you. On the other hand, it can be overwhelming for your mind, body, and spirit.
Sometimes your research activity is also "enriched" by indirect activities still related to it. Instrument booking queue, communication with collaborators, supervising students, helping each other in the lab setting, organizing events, and being supportive during crises — all this amounts to work that cannot be measured by KPIs or checklists, but that still very much exists and should not be overlooked.
Lots of things have happened since last April. While working as part of the ULLA Summer School organizing committee and participating in the NordicPOP conference, I received unexpected tips and insights for my research progress. This highlights why researchers should be more open to one another. And I got to celebrate my birthday on a cruise ship (yay!).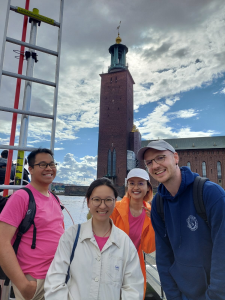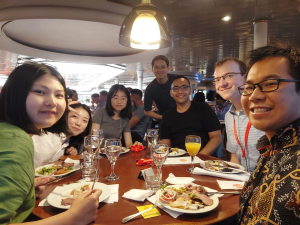 Some of the ULLA Pink Smurfs – Marco, Yuanxi, Mingshu, Quentin – during Stockholm trip. NordicPOP conference with BLT Lab members.
Personal problems have also arisen during this past year, and a certain downtime was needed for me to process my loss, to grieve and mourn what has been happening. Lots of things have changed dramatically, but I need to accept that and try to make the best of it.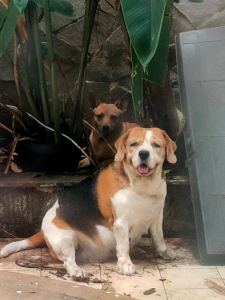 Cimmy (in front) passed away last summer, forever in our sweet memories. Cookie (at the back) deeply misses her sister.
I learned the importance of mental health and wellbeing, which tools and skills are used when dealing with mental challenges, kind of like lab equipment and skills used for tackling research questions. Deep down inside, we are only human – we might forget things, and it's okay to rely on other people for support. This kind of thing seems to be easy in theory, but putting it into practice takes practice!
Well, one thing to be grateful for is the support system here. I'm glad to be surrounded by fun-loving people who always have cultural events planned (as an excuse to eat more food?!).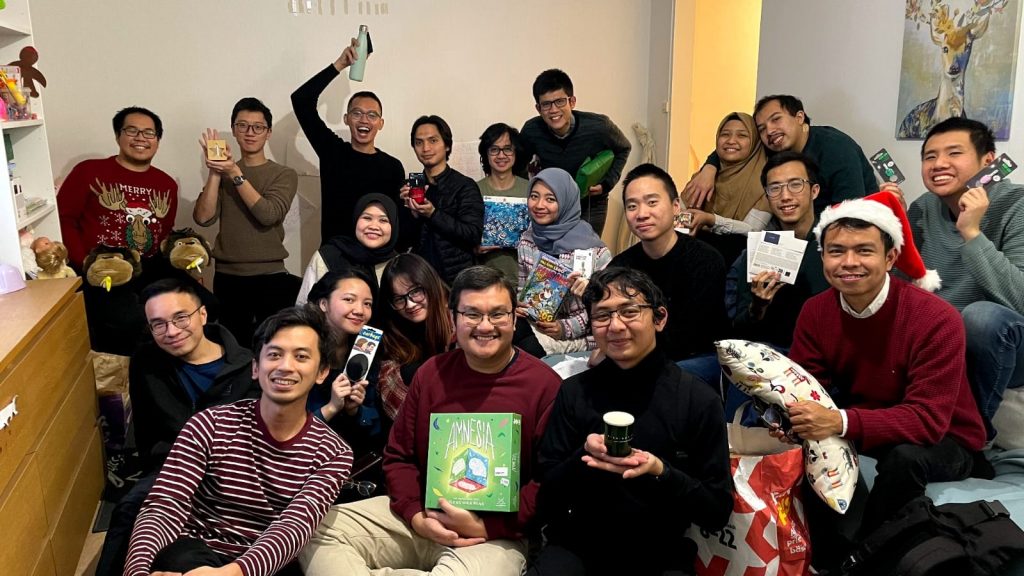 "Randomized uncontrolled" Secret Santa party with Overseas Indonesian Students Association in Uppsala
Regarding research activities, the opportunity to collaborate with lots of partners is one thing to be grateful for, though it poses challenges in coordinating and requires more strategy around logistics. Sometimes research is more than generating data; it is to experience the process of doing many things relating to your samples. The process is an invaluable learning experience, a chance to interact with many different researchers and be exposed to various working conditions.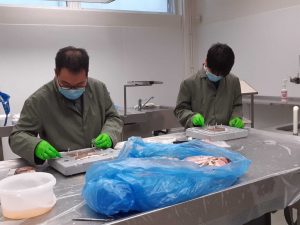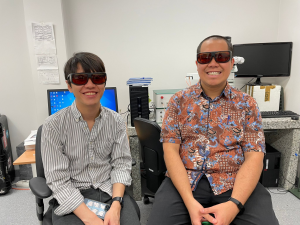 Marco and Nopdanai are working on mucus collection at SLU and working on Time-gated Raman at Helsinki University. (Credits to Magdalena Jacobson and Mingjun Wu, respectively)
There are many more highlights that I might have missed, but I can tell you more about them next time! Looking forward to seeing what happens in research and life over the next year. Stay tuned with me!
Sincerely,
Marco Tjakra