irst of all, congrats. We made it: 2021 is finally over! I am super grateful to still be standing after another year of living COVIDly. So much seems unchanged, yet almost everything has pretty much changed.
I've learned a lot during the last year, but in my mind, there is one lesson that cannot be ignored: how we communicate is perhaps even more powerful than what we communicate.
Solid science communication reduces misinformation and fosters a sense of joint effort and that "we are all in the same boat".
In this post, I hope that in the end you can think about what it means to be a scientist and do science, as well as the importance of communicating with transparency and empathy. I will also discuss my participation in the EU's MSCA initiative Science is Wonderful! 2021 and the top 3 lessons I learned while giving a class to young teenagers.
What does a scientist look like?
We've all heard about science and scientists, but have you ever wondered what scientists do all day? Do they feel fulfilled in their jobs? Do they have fun? Where does science effectively happen?
Let's pause a second and picture a scientist. Go ahead. Take your time… I'll wait. Ready? Now think about this scientist at work. What does he look like? Did you envision a man or a woman? What kind of equipment/materials does the scientist have at his disposal? Lastly, if you could be any sort of scientist, what would you choose and why?
These were some of the questions I asked the 6oC class, from Escola Básica Trigal de Santa Maria, located in Braga, Portugal, when I opened my Science is Wonderful! talks.
Disrupting labels
The reactions were varied, but somewhat stereotyped.
Mad scientist (e.g. Dr. Frankenstein or Hannibal Lecter), nerdy/introverted/socially awkward type (like Sheldon Cooper from The Big Bang Theory), old white man with grey hair and beard (e.g. Darwin), you name it! They mentioned them all. Those labels are unfortunately a reality.
In fact, neither I nor most scientists I know (including my fellow ESRs) fall into these categories.
So what is the reason behind those? Care to guess? This is a dicey one, but for me it is poor science communication. There is an obvious communication gap between scientists and the public, forcing society to imagine scientists as isolated and not very social people. But it doesn't have to be that way!
This is why events like Science is Wonderful! are so fascinating: to demystify those "labels" and show young people that scientists can be accessible, fun, and inspiring people too.
The event
Science is Wonderful! 2021 took place online from the 22nd to the 26th of November, involving 500 researchers, 2600+ schools and 20000 students from all over Europe. The initiative was all about bringing pupils and scientists together.
As an MSCA Early Stage Researcher, I had the opportunity to be part of this year's event and inspire Portuguese elementary school students to pursue science careers.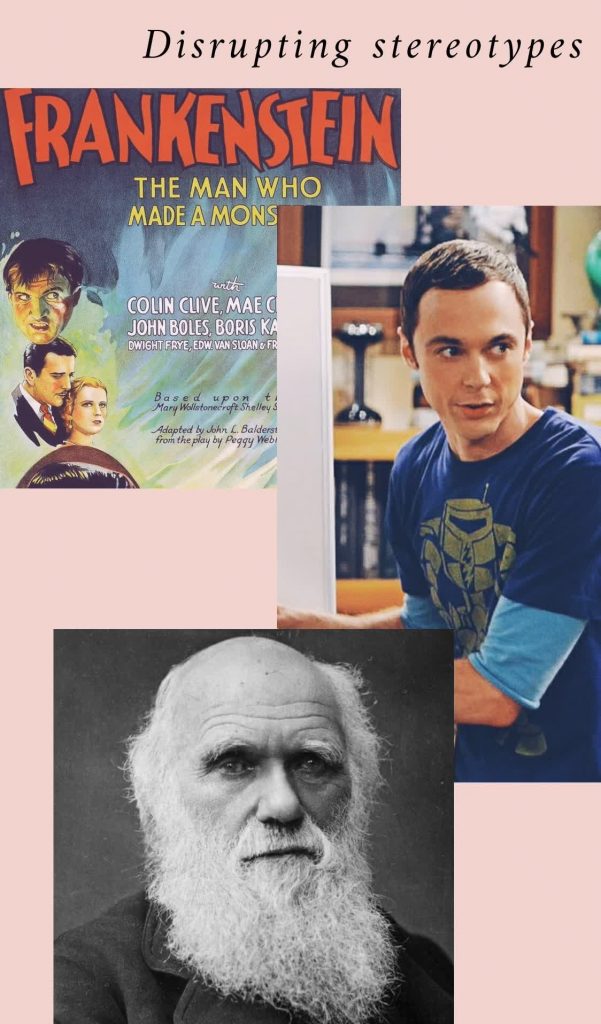 Start off on the right foot
I really believe that what you expose yourself to the first thing in the morning can set the mood for your whole day. After a series of exhausting days, that day was an important one and I wanted to start off on the right foot. I started my day with a light workout, followed by a healthy and hearty breakfast (but not because I was about to talk about healthy eating habits). Disclaimer: I'm not that cheesy!
That being said, I was fuelled for my talks.
Icebreakers are cool
First things first, let's agree that icebreakers are cool. So, the conversation kicked off light-heartedly. Getting them thinking what a scientist looks like was the chosen activity. Guess what? None of their descriptions fit me!
Then I introduced myself to the class (why I decided to be a scientist, my path and hobbies, etc.) and left some time for questions, so that I could gradually begin to earn their trust. Similarly, in return, two students presented the class and talked about themselves. Funnily enough, this does not happen so easily when the class is in person, right? Perks of video conferencing (pandemic aside!), I suppose.
After breaking the ice, the students formed pairs and solved a trivia quiz about the digestive system, nutrition and health, and curiosities about the colon. I was also able to explain my Ph.D. project and what it's like to work in a leading pharmaceutical company like Johnson and Johnson.
The quiz was followed by a Q&A session, where professional and personal topics were discussed, such as nutrition, sports, hobbies, and life abroad, among others.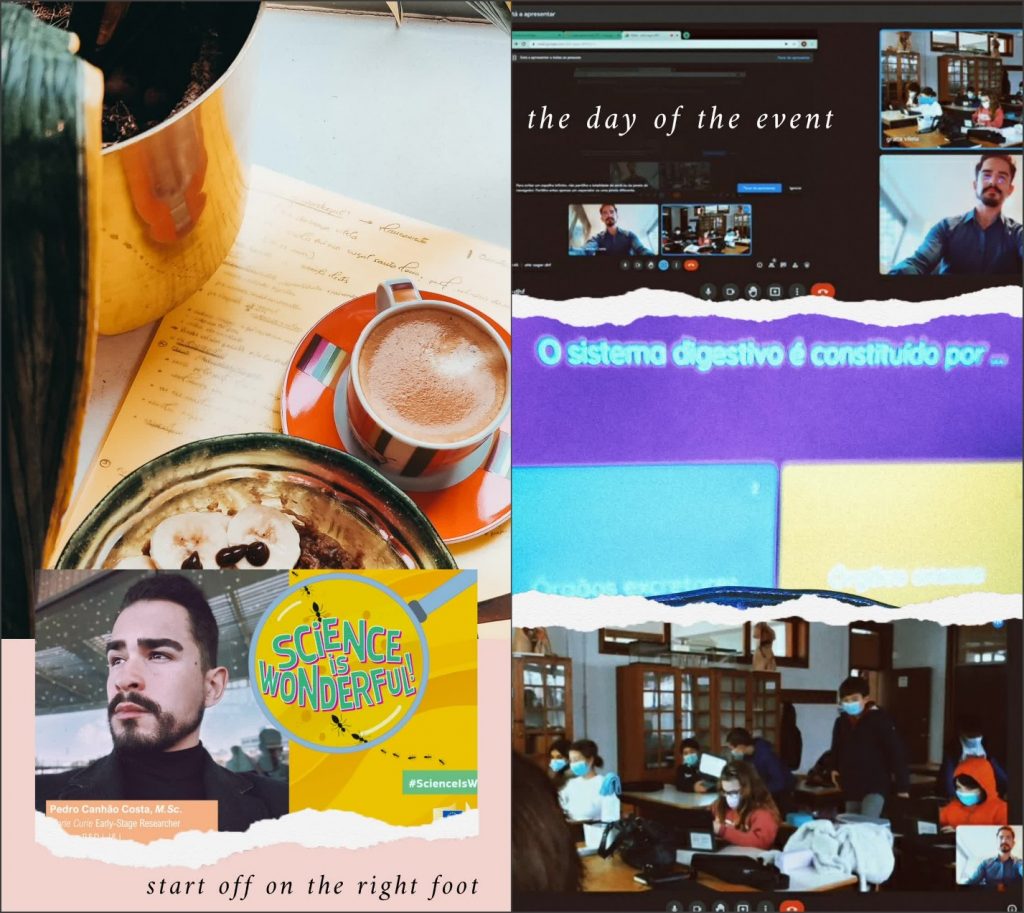 Explaining my project through organoiding – Science or science fiction?
The in vitro creation of artificial organs may sound like science fiction, but – believe it or not – it is happening today, although it still is taking its first baby steps.
When confronted with having to explain my Ph.D. project to a younger audience, I decided to focus on organoids.
Organoids can be derived from several types of stem cells and include mini-hearts, mini-brains, mini-livers, mini-retinas, mini-intestines (or mini-colons, in my case), and so on. You get the idea!
They are miniaturised, "organ-like" tissues with some of the features of the organ they model, allowing scientists to see how different cell types within a structure interact with one another.
Still, since organoids are just tiny pieces of organs, comprising just enough tissue to test, but not necessarily to function, science still has a long way to go before we obtain fully mature and functional tissue that can be used, say, for transplantation purposes. But how do we form them in the lab?
In simple terms: step 1 – cultivating some cells (the most common sources are embryonic stem cells, ESCs, or induced pluripotent stem cells, iPSCs); step 2 – growing those cells in a three-dimensional (3D) structure; step 3 – adding specific signals via the culture medium (fluid in which organoids grow) that force them to commit to a certain tissue (for instance, a colon)… et voilà!
From that point on, these organoids can be used in a myriad of applications, such as disease modelling, tissue engineering, drug discovery and development, drug screening, or precision medicine.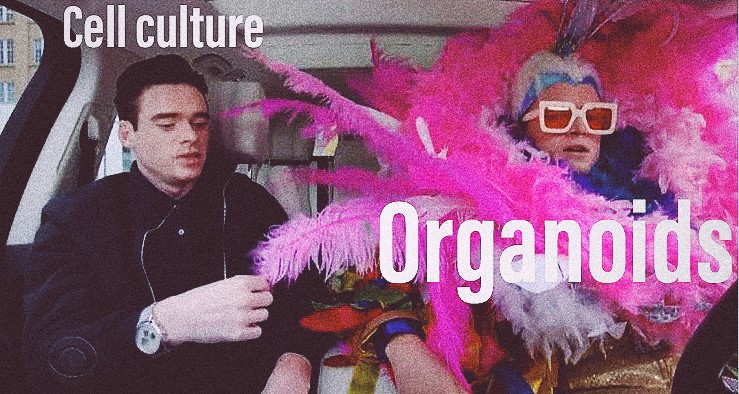 Top 3 lessons I learned at Science is Wonderful!
Before embarking on a mission to teach teenagers, you should understand that teaching a younger audience is definitely not a piece of cake. Additionally, you should take the time to understand them and build a good connection. For me, this opportunity was more about communication rather than science itself.
I have always been passionate about science. Nowadays, it is not just pursuing science, but communicating it in a clear way to society, that matters. Arguably, now more than ever!
I've learnt a few lessons from the event. Here's my top 3, in no particular order:
Clarity is key | Have you ever tried explaining something for the second or third time to someone? It's exhausting and frustrating, but maybe you're just not saying it properly! For teenagers, it is even more vital to make the language both accessible and understandable.
Communication is a two-way process | When you spend time with teens, you get to understand what they like and what they don't like, their motivations, their attention span, etc.; likewise, they come to understand that you want to be a solid foundation for them. It's all about creating a connection. The same is true for research and society: as a two-way process, research can also be influenced by societal feedback and vice versa.
Learning is an act of empathy | Learning is a collection of triggers. A teenager's learning process is much more than absorbing information. Taking the example of the pandemic again, let's think about vaccine hesitancy or mask effectiveness. Providing information alone will not change public behaviour. Both actions require empathy.
Clarity and empathy are the main traits for an effective communication in virtually any setting, whether it's a talk or a global crisis.
Ending notes
A special thanks to prof. Maria da Graça de Vilela for trusting me and consenting to my writing this post. I hope to have more opportunities to inspire (and be inspired) by such curious minds!
If you want to keep up the conversation, please feel free reach out to me on social media. Besides, you can check my LinkedIn posts 👇🏼 if you wish to find out more about my personal experience at the event.
Find out more
https://www.linkedin.com/posts/pedroccosta_mood-scienceiswonderful-connection-activity-6869702996498898944-omC8
https://www.linkedin.com/posts/pedroccosta_scienceiswonderful-msca-education-activity-6867563393834999809-W52B
Author: Pedro Canhão Costa