The European university consortium of pharmaceutical sciences, also known as ULLA, is a network that aims to enhance collaboration within education and research in pharmaceutical sciences. The first question is, where does the acronym ULLA come from? ULLA is an acronym based on the names of the cities of its founding universities: Uppsala, London, Leiden and Amsterdam. Since 1992 when ULLA was founded, 6 more universities have joined, and the consortium is now composed of:
Uppsala University – Faculty of Pharmacy (Sweden)
University College London – School of Pharmacy (United Kingdom)
Leiden University – Leiden Academic Centre for Drug Research (the Netherlands)
VU Amsterdam – Chemistry and Pharmaceutical Sciences (the Netherlands)
University of Copenhagen – Drug Research Academy (Denmark)
Université Paris-Saclay – Faculty of Pharmacy (France)
Università di Parma – Department of Food and Drug (Italy)
KU Leuven – Faculty of Pharmaceutical Sciences (Belgium)
University of Helsinki – Faculty of Pharmacy (Finland)
Université de Genève – School of Pharmaceutical Sciences (Switzerland)
ULLA stimulates the collaboration between universities through lectures, grants for exchanges for students and staff, and joint applications for EU funded research projects (which was the case for COLOTAN). But everyone will tell you that the main events – and the ones that everyone is longing to participate in – are the biennial summer schools and, starting from this year, the workshops. I was lucky enough to participate in events organized by ULLA over the three last consecutive years: the 2021 Virtual Summer School, the 2022 Summer School in Uppsala, and the 2023 Workshop in Leiden.
We all remember the summer of 2021. The world was still wrapped around the COVID pandemic and a face-to-face summer school couldn't be organized. Luckily, the organizing committee decided not to throw in the towel and instead, a virtual summer school took place. I still remember locking myself in my room to record a short video for a 'virtual' poster presentation… 😆 I had never done anything like it! Although virtual, the first summer school was a great experience and it was a good way to enter the ULLA world, especially for someone who had never participated in an event like this. The stage had been set for the next year!
In the summer of 2022, the COVID restrictions were lifted, and we were able to fly to Uppsala for what many considered the event of the year. I can't really remember the actual numbers, but it was something like 300 students, all staying at the same hotel for 1 week! Can you imagine?! Uppsala is a small city and during that week it looked like it was taken over by students from all around the world, for this event.
The timetable, however, was brutal… The demanding academic program consisted of 2 poster sessions and 28 hours of courses (selected by the participants from a long list) in the most advanced topics in research, given by professors from all 10 universities in the consortium. But apart from the academic program, ULLA summer schools are known for their social activities: fika, town walks, lunches, gala dinners, normal dinners, a trip to Stockholm, and the famous ULLA Cup. All in all, it was the most intense week ever! Don't get me wrong… It was super fun! But we had barely any time to rest or for what was going on to even sink in…
In the mornings, we started with the theoretical part of the courses and in the afternoons, we had the practical parts. So, instead of classical lectures, we had mini workshops of sorts. In my case, for example, I got to try liquid handling with automated pipetting! That was super cool, but it also made me realize that we still have a long way to go with these automated approaches. I guess what I'm trying to say is that ULLA provided a secure and friendly environment for all of us, from 10 different universities, to come together and learn about the most exciting things happening in research.
The social activities helped build that environment and are included in the program for a reason. The town walk on the first day allowed us to get to know each other so that when we had the courses, we were more comfortable and acquainted with each other. The ULLA cup encouraged friendly competition and team spirit. The day of the ULLA cup, I had my poster presentation and long story short, I didn't have time to change before the games. I still gladly accepted the role of Parma's main cheerleader. 😆 My favorite social activity, though, was the trip to Stockholm. It's a beautiful city and Skansen was well worth a visit. Skansen is the world's oldest open-air museum, showcasing the entirety of Swedish culture. But you can also find wildlife in the museum. In my case, I got to see a bear for the first time! I will cherish that day for the rest of my life.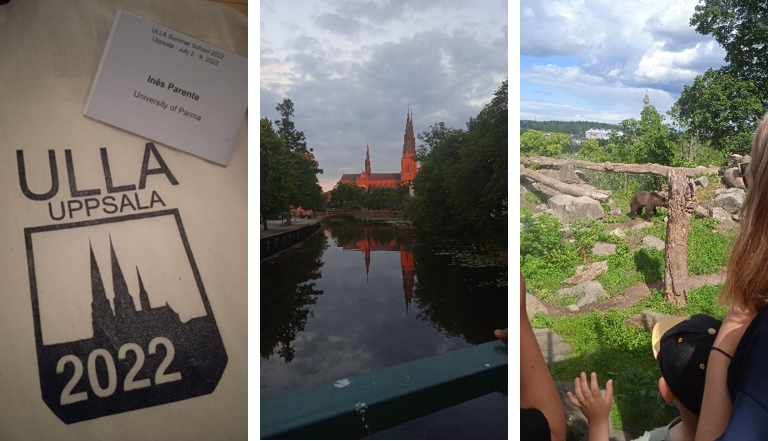 (From left to right) ULLA Summer School 2022 participant gear. Uppsala Domkyrka. The famous bear I saw at the Skansen museum.
From a social perspective, I had a bit of leverage because apart from Parma's crew, some of the COLOTAN family also attended ULLA. Harshad was my buddy throughout the summer school and thanks to him, I got to know Stockholm a bit better. Sebastian acted cool about it, but we all knew he really wanted to win the ULLA cup (and so he did…). Denny and Pedro rocked the dance floor whenever Latin songs were played. Sydney kindly invited us over and we had a relaxed evening over at his house. Marco was in the organizing committee! I could see how hard he and his colleagues were working so that everything went smoothly… A few years ago, in the 3rd year of my Bachelor studies, I had somewhat of a similar experience when I helped organize 'Jornadas de Bioquímica' ('Biochemistry Days' is the closest translation I could find 😆). It was a very small event compared to the ULLA Summer School, but it made me understand the amount of work that is necessary to plan and execute something like this. So, shout out to the organizing committee of this summer school and all ULLA events to come!
I left Bekkah out on purpose… You see, for me ULLA finished earlier. I was feeling sick, but then again, we all were (weather in Sweden involves some rain…). There had been COVID cases from day one, but very irresponsibly, I guess that I didn't believe it would happen to me… Guess what?! It did. The morning after the Stockholm trip I let everyone leave and then I went to a pharmacy and bought a couple of COVID tests. The tests came back positive… I felt so guilty and ashamed… I had put everyone at risk… Here is when Bekkah comes in! That night, Bekkah had invited us to her home and unfortunately, I had to attend via zoom. She made burritos for everyone. And I mean everyone. The next day and before going to the gala dinner, she kindly stopped by the hotel and left me some at my door. A kind gesture that I will hopefully be able to repay in the future.
ULLA Summer School was over for me. I stayed at my room the remainder of the days and when I headed back home, I felt that I had left something unfinished.
Last July, the first ULLA workshop took place in Leiden, and I was able to shake that feeling away. I was honored to be a part of the Italian crew one last time. Marti, Ilaria, Gianluca and Luigi were the best companions in this adventure, and we believe we represented Parma very well. This was a much smaller event (4 days) when compared to the summer school because it was dedicated to one specific topic. This year, the workshop was dedicated to stem cell therapy. The program of the workshop was much more dedicated to the academic side. We really dived into the topic, looking at it from two different angles: the cell biology and physiology side, and the drug targeting side. Everything was very organic and easygoing. Because we weren't a lot of people (30 students, give or take) there was this feeling of closeness. The workshop was very different from the summer school, but I guess they complete each other.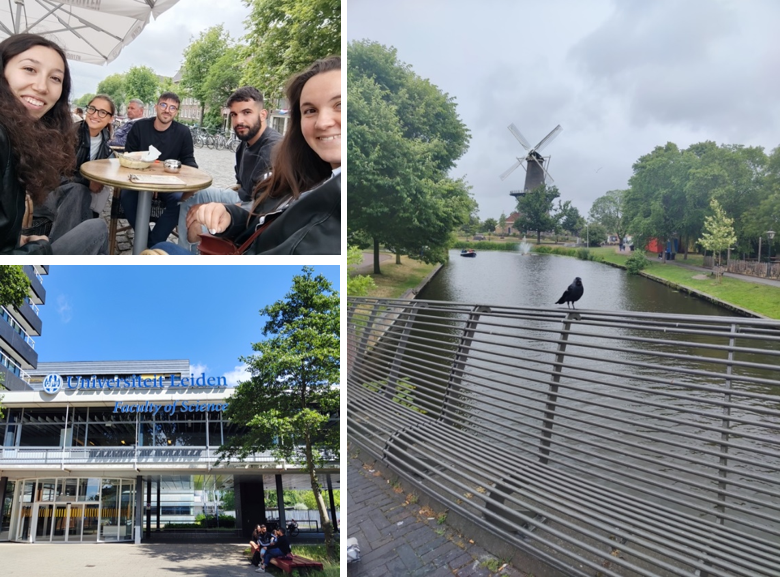 (Top left) Italian crew at the ULLA workshop 2023. (Bottom left) Building where the ULLA workshop took place. (Right) Leiden landscape.
Next year, I will hopefully finish my PhD. This was my last ULLA event as a PhD student. I guess I'm trying to wrap up this adventure in my head… ULLA showed me that research can be more than sitting in a classroom or in a lab all day. It needs to be more than this! These activities really bring us together and make us better: better students, better researchers, better friends, better people. ULLA is the living example that we are stronger when we come together. Consortiums like this should be replicated in other areas and extended to other countries. ULLA is mainly composed of universities in northern and central European countries. The Università di Parma is the only representative of a southern country. It's a difficult subject… Professor Hubertus Irth, ULLA's chair, addressed this issue at last year's summer school and this year's workshop. He didn't try to sweep it under the carpet. Instead, he addressed it with honesty. ULLA already has 10 members and to add more universities would be to exponentially increase the already impossible job of trying to organize an event with 300 people, in the case of the summer school. All this work is added on to preexisting professional commitments. As a proud Portuguese woman, I'm sad to see there's no Portuguese university in the consortium but I'm not blind to the challenges of adding new members. Problems like these need to be discussed, as Professor Irth eloquently tried to do with ULLA students.
One thing is certain, consortiums such as this one must be encouraged and maybe the EU could play an important role on implementing these initiatives all around Europe. And why not the world?
ULLA website: https://ullapharmsci.org
Inês Parente