We, the ESRs of COLOTAN, are often discussing scientific problems, ideas, and solutions. Often, these difficult topics come before everything else… After all, 3-4 years of a PhD pass by quickly, the desire to publish new discoveries is big, and the difficulties can be significant. Therefore, collaborations and teamwork are essential in these cases.
I have already extensively presented myself in the COLOTAN Team section, so I wanted to use this blog post to talk about what led me to the COLOTAN project as ESR 1, about my professional and personal life in Leuven, and about my colleagues in the COLOTAN project and at the university.
As many of you have likely noticed, I have not been part of the COLOTAN project since its start, but I joined it in 11/2022. After a childhood spent in Croatia, university studies divided between Italy and Portugal, and 2 years of work in Slovenia, I moved to Belgium for my PhD.
It was the spring of 2022, when I, a young R&D scientist, was looking for a PhD project in the field of Pharmaceutical Technology and Materials Science. In June, after a long and intensive search, I found the right topic for me, and in the right place: "Development of biodegradable polymer coatings for colon targeting" at KU Leuven. For me, that was an opportunity that I could not miss. After an application and a couple of interviews, I was selected, and in November 2022, I started my PhD.
During my first months in Belgium, I dealt with unexpected rain showers and completely different food compared to my Mediterranean background (which, I must be honest, made me suffer a bit). However, in Belgium, I have found, above all, people of great honesty and kindness who have made me feel welcome and like an integral part of this multi-ethnic country with many opportunities.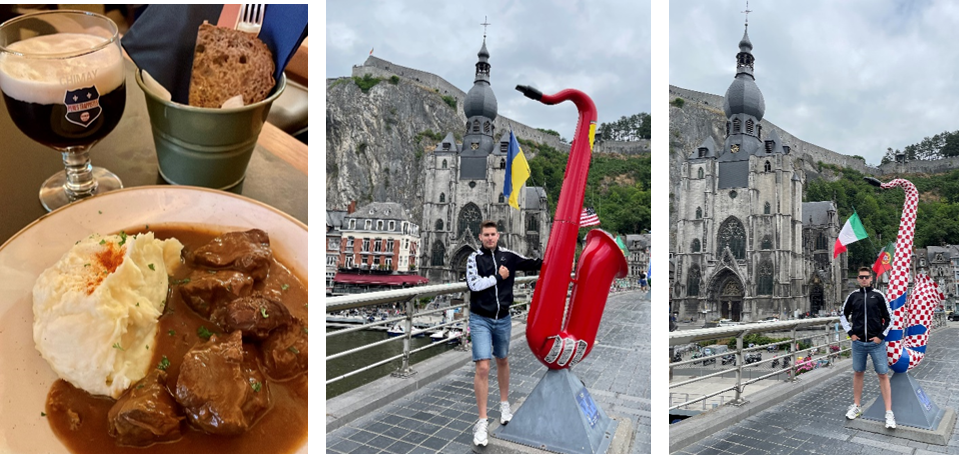 (From left to right) Carbonnade flamande, contributions to my homelands (Italy and Croatia) in Dinant.
I immediately understood what KU Leuven's great reputation and prestige are due to. KU Leuven is the beating heart of Leuven, a vibrant city with beautiful architecture, historic charm, and many bars. The university offers comprehensive educational, financial, and psychological support to its PhD students, who are seen as central figures to the life and future of this city. Of course, the satisfaction of doing research is also due to colleagues with whom you spend most of your days. Here, in the Drug Delivery and Disposition research unit, I have met people from different nations with a wide range of backgrounds. They are all nonetheless humble, eager to improve, and happy to help each other. Thanks to them it was easier to adapt to this new environment and manage all the tasks encountered during the first year of my PhD.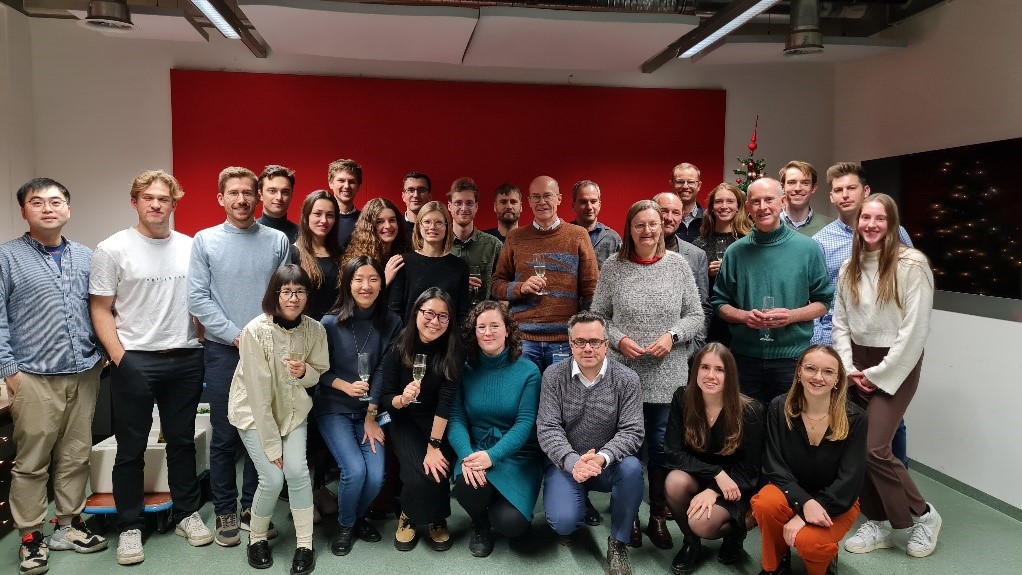 KU Leuven's Drug Delivery and Disposition research unit.
As the icing on the cake, at the end of this first blog post, I want to tell you about my 12 ESR colleagues within COLOTAN. In addition to a few web meetings and chats on WhatsApp, the best way to get to know them was definitely during our meeting in Parma. Although I was a new recruit, this group of young adults immediately made me feel like an integral part of their well-established group based on great collaboration, brotherhood, and friendship. It is difficult to say something about each of them because this post would be at least twice as long then (but I would like to dedicate more time to them in one of the next blogs).  However, for now, I can say with certainty that I could not have wished for better colleagues, and, above all, friends to collaborate and spend time with.

(Left) COLOTAN team members. (Right) One of the excellent dinners in Parma.
In anticipation of writing exciting new pages, my first blog post ends here. Thanks KU Leuven and COLOTAN!
Alen Damiani