A big dream of mine has always been to study for some time abroad. After finishing my pharmacy studies in Germany, the time for the practical year came and I had the chance to spend half of it at the Infectious Disease and Pharmacokinetics Laboratory at the University of Florida in the US.
This time was a determining point for my future career – let me explain why:
The major focus of this group is therapeutic drug monitoring and pharmacokinetics mainly for tuberculosis drugs. Especially the cases with resistant tuberculosis attracted my attention. Shocked by this human made problem, I planned to raise awareness and help to fight antimicrobial resistance (AMR). As it is a worldwide known lab, it was no surprise that I was not the only European intern.
My European colleague was pursuing her PhD in the Netherlands under an Horizon2020 project.
Thanks to her I heard the first time about the Marie-Skłodowska-Curie-Actions and all the benefits that come with it.
Consequently, as soon as I finished my practical year, I was eager to get one of these rare positions. (Spoiler alert: I was lucky)
After spending some time with pharmacokinetics of anti-infectives and improving antimicrobial stewardship, I felt quite comfortable in this area. So why am I not doing something with therapeutic drug monitoring, you may ask?
While reading through the position description of ESR3 I found it quite challenging to approach AMR in a completely different way. The plan is to adsorb unabsorbed drugs in the colon to protect the microbiome. This ambitious project interested me so much that I quit my original plans of drug monitoring.
Half a year later: here I am – at the other end of Europe – in Athens, Greece.
And as far as I can say for now – best decision ever!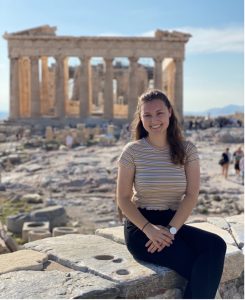 I am lucky to work in a group of 5 ESRs from three different MSCActions and other PhD and Master students. This helped me to settle more easily in my new home in Athens and more importantly to decode all the Greek letters (especially when it comes to bureaucratic hurdles).
Plus, with friends by your side the long road of a doctorate becomes easier.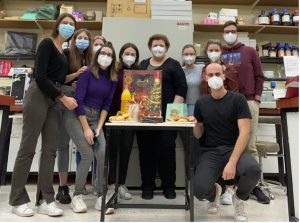 But how is life in Greece?
Quite good so far. Especially, after overcoming some struggles in the beginning which, I guess, are normal when moving to another country, aren't they?
Whenever I get asked what I like most about Greece, my answer is: the people, the food and the weather.
The last part is not so true right now with rain and 10 degrees, but for the rest: I was never disappointed.
Lea Gnatzy
Photos: Lea at the Acropolis, Research group at NKUA