I vividly remember coming to Copenhagen last year — it's like it was yesterday. I remember it being quite cold (even though it was April…), and having a nose swollen and itchy from several PCR tests. Despite these massive setbacks (the Danes like sarcasm more than Swedes for sure), I was ready to start my new journey here, although now on the other side of the Øresundsbron.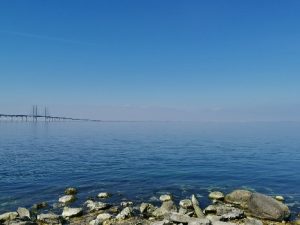 Øresundbron. A 15.9km long link between the landmasses of Sweden and Denmark.
However, unlike many of the other ESRs, who have travelled across the world, struggling with VISAs and paperwork, coming from tropical climates to freezing climates (I'm especially sorry for Harshad and Marco), I was essentially spared most of the difficulties due to great governmental cooperations between the countries, making everything from opening up a bank account to social insurance a phone call or a single page document to fill in away. Adding to this, culturally, gastronomically, linguistically (at least to some extent…), financially, and politically, most things are essentially the same, making any potential culture shock non-existent. However, there is one thing that Danes do better than Swedes, and I have to give it to them, which is that they are indeed more social than us (but I only see this as a positive thing).
But now, let me stop comparing, and show you some of the things Copenhagen has to offer!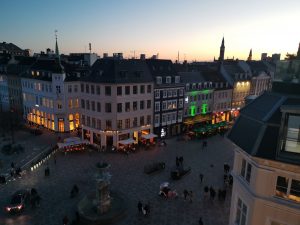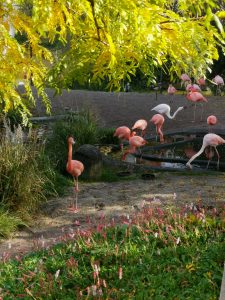 Left to right: Enjoy a cup of coffee in the middle of Strøget with an amazing view of the sunset! Explore what København Zoo has to offer!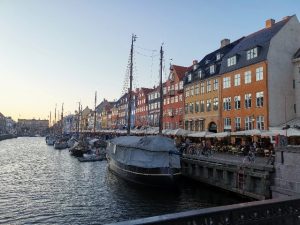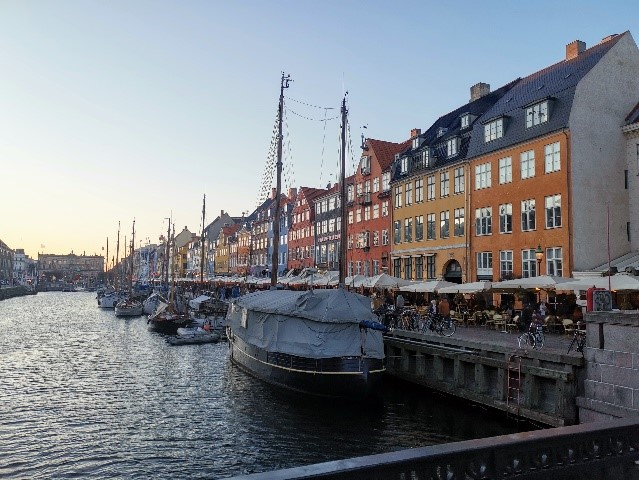 Fancy a night out? Nyhavn is a great place to enjoy amazing food and drinks, with stunning architecture and views!
Despite its relatively small size, Copenhagen is a city where there is so much to explore. It is rich in culture, architecture, history, and especially gastronomy, with an abundance of the most highly rated restaurants in the world. So no matter your interests, there is a Copenhagen to explore for everyone. And I am lucky that I can do this with my tightly knit group, Physiological Pharmaceutics, who are supportive both at and outside of work. Who have not only given me a warm welcome to their working place, but also tons of banter between our nationalities as well as great memories that we´ll remember for many years to come.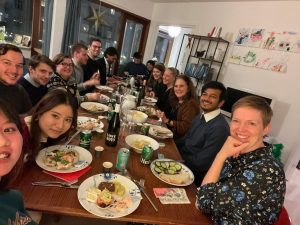 Christmas dinner with the Physiological Pharmaceutics group.
If the upcoming years are anything close to what this year has been, I´m here for a good time.
Denny, the Swede in Denmark